Coronavirus (COVID-19)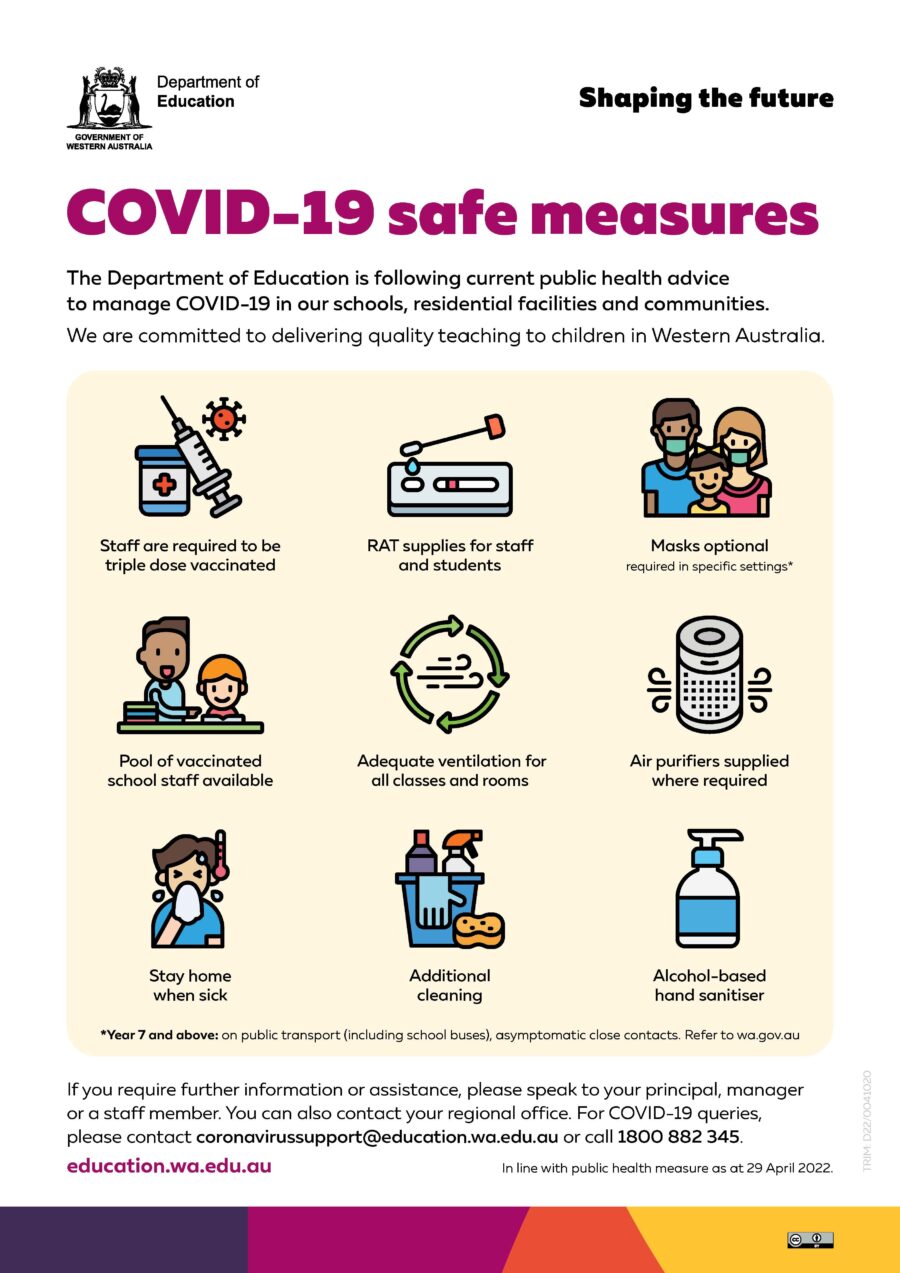 CLOSE CONTACT
A close contact is defined as:
a household member or intimate partner of a person with COVID-19 who has had contact with them during their infectious period
someone who has had close personal interaction with a person with COVID-19 during their infectious period, where they spent greater than 4 hours of cumulative contact with them in a residential setting in any 24-hour period, (i.e. a home, accommodation facility) where masks have been removed by both people during the period of contact
someone who is directed by WA Health that they are a close contact.
Asymptomatic close contacts are not required to isolate but do have to follow testing and mask wearing requirements. They are required to do a daily Rapid Antigent Test (RAT) and receive negative result each day before attending school. To assist with this, the school has received several thousand test kits with more soon to become available. These can be made available to students in such situations.
TESTING AND ISOLATION PROTOCOLS
Students and staff who are symptomatic must stay home and test for COVID-19.
Refer to the WA Government's testing and isolation protocols for details on testing and isolation requirements for students and staff who have tested positive for COVID-19 or been identified as close contacts.
Can asymptomatic close contact students return to school?
Yes. Parents must inform the school of the child's close contact status. Students who return to school must follow the requirements set out by the WA Government including mask wearing (Year 7 and above) and daily RATs.
MASK
The indoor mask mandate is no longer in place. Masks are encouraged where physical distancing is not possible. Staff and students may also choose to continue to wear a mask.
Masks are required for staff and students (Years 7 and over) in the following situations:

when on public transport, passenger transport (including school bus services) and ride-share
if identified as an asymptomatic close contact and attending school.