Deirdre Croft
1970

Collegian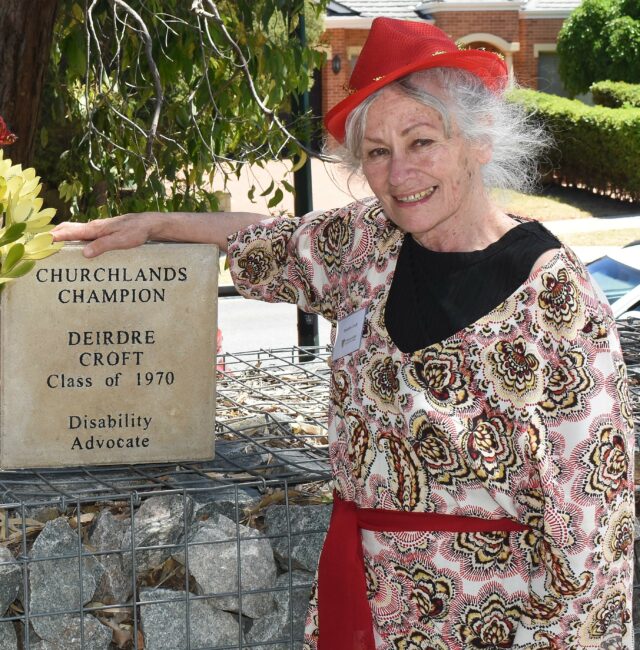 Deirdre Croft was a student at Doubleview Primary prior to attending Churchlands Senior High School from 1966 until 1970. Deirdre served as a prefect at Churchlands. After graduation, she went on to study at UWA, and later at the University of Melbourne.
Deirdre is a journalist by profession and her career includes positions at the ABC; in the office of the Victorian Attorney General; with the Australian Research Alliance for Children and Youth; and at the Telethon Institute for Child Health Research. She has a strong academic and research background and undertook research on disability and society as a PhD candidate at Curtin University of Technology.
Deidre is the mother of a son with complex disability who needs care 24 hours a day, seven days a week. The nature and demands of caring for Richard have been the impetus for Deidre's lifelong commitment to advocating for people with disability and using her intellectual and artistic skills to campaign, present evidence and tell stories to support better provisions for people with disability and their carers.
Deirdre has served on state and national disability campaign committees, including four years on the National Disability and Carers Advisory Council. She has carried out research investigating the historic provision of accommodation support services for Western Australians with intellectual disability and examining the needs for the future. She has written submissions and articles detailing the particular needs of people with intellectual disability and the tendency for these people to be underrepresented in many disability forums.
Deirdre's deep concern for telling the stories of lives that are often hidden from most of us, inspired a trilogy of documentary films made by Andrew Wiseman exploring the journey and challenges of a family caring for a child with a complex disability. The first featured Deirdre's son Richard as a child and the second as a teenager. The third film, On Richard's Side, about Richard as an adult, was selected for the 2016 Sydney and Melbourne Film Festivals and has been critically acclaimed for its honest and insightful treatment of this important subject. And while doing all this, Deirdre has developed and managed a Personal Advocacy Network for Richard through WA's Future Living Trust, an organisation that assists families to plan and establish long term living arrangements and care for their loved ones that will endure when family can no longer provide full support.
Deirdre's commitment and lifelong advocacy for Richard and others like him is extraordinary. Her path is not one that anyone would envisage, yet the contribution Deirdre has been able to make, by harnessing her dedication, passion and skills is worthy of gold medals or high office or wild applause, none of which she has probably received. But it is our pleasure, as a small tribute to her, and because she is an outstanding example to us and to the students of this school, to honour Deirdre as a Churchlands Champion.