Enrolment
At Churchlands Senior High School we welcome all prospective students from within our intake area. If you live in an 'optional catchment area', a choice of schools are available to you. Through our GATE Music Program, a unique and successful program which supports musically gifted students, we also accept successful students from outside the catchment.
We also accept a limited number of students residing outside our catchment. Please complete the Application for Enrolment package if you would like to be considered.
Parents of students wishing to enrol need to complete an Application for Enrolment Form. If you require assistance completing this form, including translation services, please contact the school on 9441 1700.

Applications and copies of other required supporting documentation should be emailed or sent to:
The Principal
Churchlands Senior High School
20 Lucca Street
CHURCHLANDS WA 6018
Appointments on receipt of the completed documentation will be made with the relevant Associate Principal except for Year 7 students commencing at the beginning of the year.
Note: Please read the Digital Enrolment Form Requirements first. Acrobat Reader Version 10 and above is needed to complete the enrolment form. If you are using iPad or a MacBook you may be required to right click and download the enrolment form (Download Link File as) and open in Acrobat. Filling out the form using web browser will not work.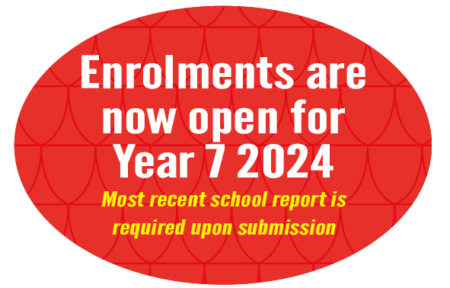 We kindly request you to take a few moments to carefully review your enrolment package and verify that all the necessary documents and forms have been included. It is crucial that we have all the required information to facilitate a smooth transition for your child.
Enrolment Package Year 7 2024
Enrolment supporting documentation
Proof of residential address
Proof of ownership of the property by the parent/s where the student usually resides. This will be a rates notices from the local council.
Where the family is in a rental property, a copy of the rental agreement. This agreement must be for a period of a minimum of 12months and be with a registered Real Estate Agent. (No Post Office style agreement is accepted)
Supporting evidence for residential address
Applicants must also provide a minimum of 2 further pieces of evidence to confirm their residential address.
This must include:
Latest electricity account
Plus one of the following:
Latest gas accounts
Telephone accounts
Current bank statements showing the address
Driver's License
Removalist documents
Any other documents that may support the application as proof of residence.
Statutory Declarations will not be accepted in the case of living with a friend or relative. It is essential that the school is informed immediately of any change of particulars (e.g. address of usual place of residence, phone number/s, court orders or details of guardianship). It is vital that all the information provided is accurate and updated.
Age

A birth certificate or extract of a birth certificate or passport should accompany the application for enrolment as proof of age. Only in very exceptional circumstances, and only with the permission of the Principal, will a student be placed in a group that does not correspond to his or her age group.
Music

Parents of students learning Music through the School of Instrumental Music in their Primary School, who wish their child to continue with Music at Churchlands even though they have not enrolled in the Gifted and Talented Music Program, should indicate this in the relevant section of the Application for Enrolment. They will be contacted during Term 4 by our Music Department to arrange an Audition. Further information can be obtained by phoning the Music Department on 9441 1737.
Special Needs

Parents of students with special needs should contact the school to discuss these needs and the appropriateness of a placement in Churchlands Senior High School prior to lodging an application to enrol. It is appropriate that these issues and the schools ability to meet these needs are discussed and potential problems highlighted well in advance of the expected date of enrolment. If this is not done the principal will negotiate to delay the first day of attendance with the parent/responsible person if the necessary teaching and learning adjustments are not currently available at the school.
English as a Second Language

Please indicate if your child comes from a non English speaking background or requires English as a second Language assistance at school. If an assessment is required we will refer you to our Coordinator of English as a Second Language for an Interview prior to enrolment. If a students English is limited and they have the appropriate Visa, they will be required to attend an Intensive Language Centre to learn English until a minimum standard is reached before they can take up their enrolment at Churchlands SHS.