Art Exhibition
The Community Art Exhibition at Churchlands SHS has been a very successful event over the years, each year hosting unique works created by artists within our school and the broader community. Guest artists have included Leon Pericles, Kim Maple, Kay Gibson, Greg Hunt, Jen Mellor and Amanda Shelsher.

The exhibition is open to all artists whether emerging, professional or student. There is no theme required for entry and the art committee calls on artists across the community to present works of excellence from varied and diverse media and practices including painting, photography, collage, ceramics, glasswork, textiles, jewellery and 3-D works.
Opening Night
The 2022 Exhibition will be held 27 to 29 May. Opening night is 27 May 5.30 -7.30pm. All are invited. Booking can be made on Trybooking.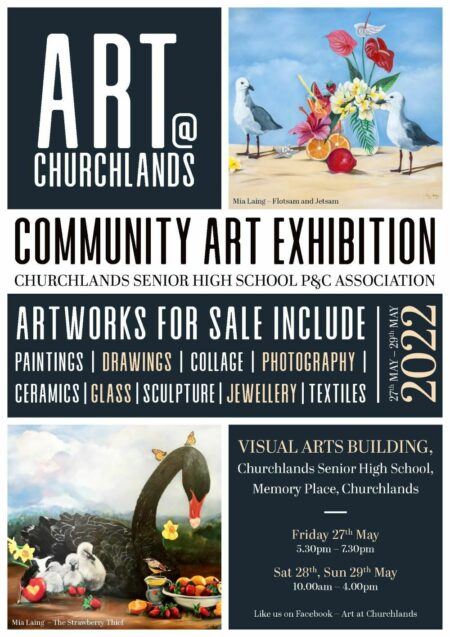 Volunteers needed
We are looking for volunteers to help out in the lead up to the event and during the Exhibition - for as much or as little as you can do.
21 May Help receive the art
21-26 May Hang the art
27-29 May Welcome visitors at the desk, help out around the event, assist visitors and answer any questions/purchase queries
29 May Dismantle and restore when the event is over
30 May Pack away items
Please complete the volunteer sign up sheet here.